Classic Car Insurance Headquarters –
We live classic cars!

Let us in the largest door of your home, the garage door…
And you'll be pleasantly surprised what we can do for you!
We all have a special connection with our vehicles. Maybe it was the place that we had our first kiss, or maybe it was what we drove when we were in high school. In any case, classic autos are very special to us! When it comes to your classic autos or specialty vehicles, including antiques, exotic and sports cars, Sacchetti Insurance are the "go to" agency – not because we say it, but because we live it.
When we say "we live classic cars," we mean:
We love classic cars
We own classic cars
We are an active part of the classic car community.
What specialty vehicles are covered?
Sacchetti Insurance agents are the "go to" agency when it comes to insuring your classic car or specialty vehicle. Whether insuring a single vehicle or collection, we provide one of the most inclusive collector programs in the industry, covering all types of collectors, vehicles, operators and values.
Classic cars
Collectible trucks
Race cars
Muscle cars
Harder to place autos
Antiques
Street rods
Collectible fire trucks
Pro. assembled kit cars
Restorations in process
Sports cars
Custom cars
Collector trucks
Military vehicles
Exotic cars
Antique motorcycles
Trailers
Tractors
Sacchetti Classic Insurance policies
offer valuable coverage such as:
Agreed Value
Tailored Mileage Plans
Nationwide Roadside Assistance
Automatic Coverage For New Purchases
Added Value with spare parts, trip interruption, and pet coverage
10% Discounts for National Club Membership
Combine all your insurance policies under one roof
If you purchase your classic or specialty auto insurance with Sacchetti Insurance, why not purchase all your insurance products with us? Not only will it make things easier to deal with one company, but the same experience, and purchasing power will provide the same benefits for all your insurance needs – the best policy for the best price.
We cover the following locations:
Rhode Island, Massachusetts, Connecticut, Florida, Maine, Vermont, New Hampshire, Arizona, Nevada, North Carolina, South Carolina
RI, MA, CT, FL, ME, VT, NH, AZ, NV, SC
Free Quote or Policy Evaluation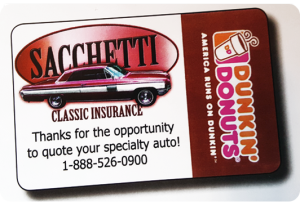 If we can't beat or match your current classic policy, you will receive a $25 Dunkin Donuts Gift Card!!